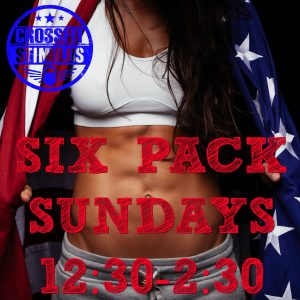 Open Gym 12:30-2:30PM
Sunday Funday WODS

Option 1:
20 Min AMRAP
200 Meter Run/200m Row
10 Deficit Push Ups (Use a plate or plates to put your hands on), Regular Pushups, or Hand-release Pushups
20 DB or Med Ball Russian Twists
Option 2:
10 Rounds:
20 Reverse Lunges or Jump Squats
15 Push Ups/Ring Rows (Alternate exercises each round so that you end up with 5 of each)
10 T2B/Knees to Chest, or Leg Raises
Option 3:
Choose your own adventure: Run – Row – or Bike
3-4 Rounds:
2 Min On (Moderate/Fast Pace)
30 Seconds off
1:30 On (Fast Pace)
30 Seconds off
1:00 On (Faster Pace)
30 Seconds off
:30 Seconds ON (Sprint)
Rest 2 Min
Score is average distance per round.  Goal is to maintain it!
Go ALL OUT on those sprints and very hard on the 1 Min Fast pace too.
Goal is to try to maintain same distance or calories for each round.
DO NOT cut out the rest. 
Make sure pace changes for each section~
CORE 
1. 75-100 WallBall Situps
Set up in front of wall with your abmat and med ball.  Toes are touching wall or almost touching wall.  Lay all the way back and as you do your situp, throw the medicine ball at the wall, catch it, and lay back down…100 times =)  Just throw the ball to a moderate height so you can catch it easily and maintain a good rhythm.  Rest as needed.
2.  Accumulate 3:00 in a plank in as few sets as possible