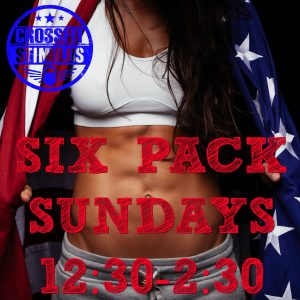 SUNDAY FUNDAY!  OPEN GYM 12:30 pm – 2:30pm!
CONDITIONING/ENDURANCE
Option 1:
Alternating EMOM20
Min 1: 15/12 Cal Row* (or Ski!)
Min 2: 12-15/12-10 Cal Assault Bike or 20-25/12-16 Cal Airdyne*
*Modify to a calorie amount you can attain in a maximum of 45 seconds during the early rounds
Option 2:
The Burpee Mile : Choose your own adventure!
4 Rounds:
20 Burpees
400m Run (or Row)
OR
8 Rounds:
10 Burpees
200m Run (or Row)
Option 3:
Core & Cardio
4 Rounds
With a running Clock:
30 Seconds Push Ups
30 Second Handstand Hold or Plank Hold
30 Seconds Air Squats
30 Second Bottom Squat Hold (Chest up, keep that back tight, do not get lazy here and lose that lumbar curve!)
30 Seconds Bicycle Abs
30 Second Hollow Hold (modify to both knees tucked in)
40m Prowler Sprint as fast as possible  (For an added challenge you can do 80m)
Rest 1 Minute
CORE & ARMS
4 min Tabata Hollowman
20 Sec Hollow Hold
10 Sec Superman Hold
Rest 1 min
4 min Tabata Curls
20 sec Max Alternating Bicep Curls
10 sec Rest
Rest 1 min
4 min Tabata Pushups
20 sec Max Pushups
10 sec Rest
Rest 1 min
4 min Tabata AbMat Situps
20 sec Max Situps
10 sec Rest